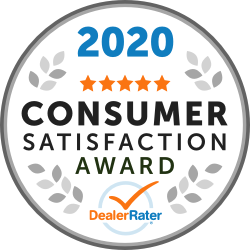 Bernardi Volvo Cars Natick is a proud recipient of the Volvo Excellence Award

Bernardi Volvo Cars Natick is proud to have been awarded the Volvo Excellence Award for 2 years in a row for 2018 and 2019. Bestowed by Volvo to only a 30 dealers in the country, the award recognizes those who go above and beyond across all aspects of a dealership's operations.

Bernardi Volvo Cars Natick not only exceeds expectations in customer satisfaction for sales and service, but also achieves outstanding parts and accessories sales. Additionally, we ensure that every one of our employees meets all of Volvo's extensive training requirements. Ultimately, what all this means is that Bernardi Volvo Cars Natick has striven to go above and beyond all expectations in creating the best Volvo ownership experience for all of our Volvo customers.
Designed Around You

The Volvo Excellence Award annually recognizes the most committed Volvo retail partners in the country. At Bernardi Volvo Cars Natick, we are proud to announce that we have earned this distinction, and we're thankful to all of our customers who have made it possible.

Only 30 retailers nationwide can claim this award each year, and we know it's the relationships we've built that have allowed us to exceed expectations in multiple categories.

We achieved the highest satisfaction ratings from customers by making their questions and concerns our greatest priority.

Our Sales, Service, and Parts teams are factory trained to provide you with arguably the best customer experience in the industry. All Sales and Service representatives have met the certification criteria required to ensure they are always an effective resource for you.

We are honored to receive the award, and we know we owe that distinction to our customers. Whether it's a service visit or you're interested in acquiring a Volvo, we look forward to seeing you!