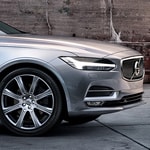 Volvo stands behind the performance of its motor vehicles. The V90 is one vehicle that begs to be driven. The following two performance features will make you want to get behind the wheel of this car.
Why settle for five or six gears when you can have eight? The V90 boasts a robust eight-speed Geartronic automatic transmission that makes smooth driving easy at any speed. The optional manual mode gives you maximum creative control when Natick roads demand it.
At Bernardi Volvo Cars Natick, we appreciate the details this vehicle offers. The paddle shifter is a fun, exciting, and innovative way to make driving easier. This shifter is housed within the steering wheel, so your hands never need to leave the wheel to get the most from the eight-speed transmission when you manually change gears. These features alone make each trip much more joyful.