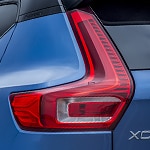 Why is the Volvo XC40 such a coveted subcompact SUV? For starters, it's an attractive luxury vehicle that's quite roomy. It also has great exterior features. Let's take a closer look.
There are many features that make the Volvo XC40 attractive. The exterior styling has small details that contribute to its overall appeal. This includes color-coordinated side rear view mirror caps. It's a minor enhancement that makes a difference. Every detail was considered when designing the Volvo XC40. The heated windshield wiper blades are for the primary purpose of making sure the windshield wiper fluid doesn't freeze. This will ultimately help you maintain visibility during inclement weather.
The Volvo XC40 is a vehicle you'll love! Stop by Bernardi Volvo Cars Natick for a test drive to experience it for yourself. You can also contact us to schedule an appointment.