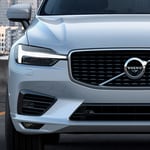 Volvo XC60 is a popular luxury compact SUV. The XC60 is designed with a Scandinavian aesthetic that includes LED headlamps and tail lamps, 9-inch touchscreen display, ergonomically designed leather seating, leather steering wheel, leather gear shifter, and a power operated tailgate.
The interior of the Volvo XC60 is equipped with a dual zone electric climate system that maintains your perfect cabin temperature. The passenger and driver both have the option to choose their own desired temperature with the dual zone electric climate system. The system also includes seperate air ventilation for passengers in the rear of the vehicle, touch screen climate control, and an air filtration system that rids incoming air from pollen, dust, and other particles that may be present. The climate system also includes an automatic fan function that is able to be programmed to one of five levels.
We invite you to visit us at Bernardi Volvo Cars Natick to test drive a Volvo XC60.