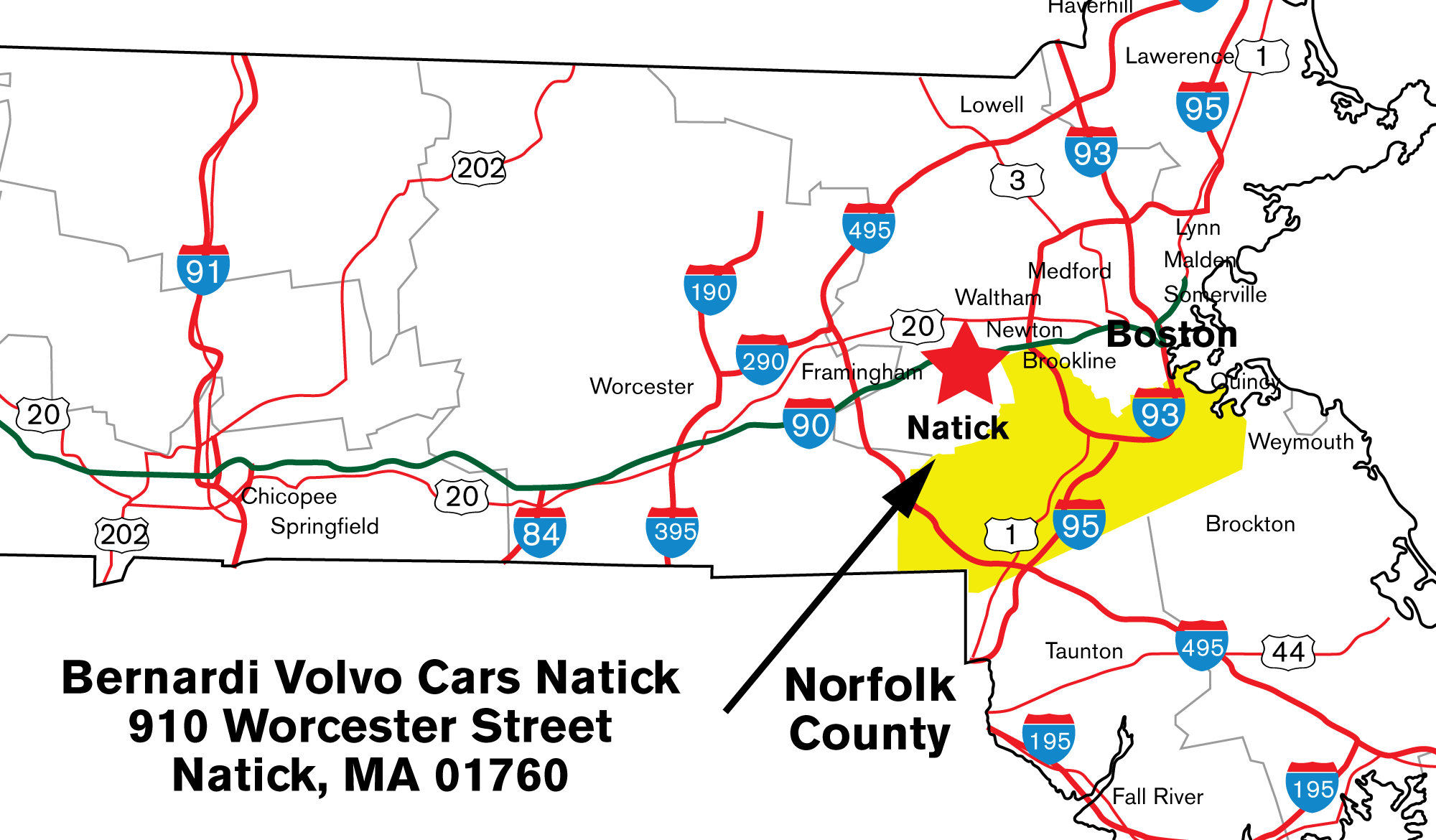 ---
Directions to the Bernardi Volvo Cars Natick Dealership from the cities and towns of Norfolk County, Massachusetts
---
Near RT-27

Enter RT-27 North toward NATICK
Bear RIGHT (north) onto ramp toward RT-9 / Worcester Rd and proceed 1.6 miles
Turn LEFT (south) onto Dean Rd, (across from the Natick Mall) and then immediately turn LEFT onto RT-9 East / Worcester Rd
Drive 3 miles EAST to Bernardi Volvo Cars Natick
Near I-95 (RT-128)

Enter I-95 North
Take EXIT 23-24-25 for I-90 (Mass Pike, Massachusetts Turnpike)
Follow signs for New York/Springfield/Framingham and merge onto I-90 West
Drive for 6.3 miles to EXIT 13.
Take EXIT 13 onto RT-30 East - toward NATICK / WELLESLEY.
On RT-30 East, drive .2 mile to the intersection with Speen Street (Naked Fish restaurant).
Turn right onto Speen Street
On Speen Street, drive .6 mile
Take the RT-9 East (Worcester Road) entrance ramp on the left.
On RT-9 East, drive     2.7 mile to Bernardi Volvo Cars Natick
Near I-93

Enter I-93 North
Continue on I-95 North for 11.3 miles to EXIT 25
Take EXIT 23-24-25 for I-90 (Mass Pike, Massachusetts Turnpike)
Follow signs for New York/Springfield/Framingham and merge onto I-90 West
Drive for 6.3 miles to EXIT 13.
Take EXIT 13 onto RT-30 East - toward NATICK / WELLESLEY.
On RT-30 East, drive .2 mile to the intersection with Speen Street (Naked Fish restaurant).
Turn right onto Speen Street
On Speen Street, drive .6 mile
Take the RT-9 East (Worcester Road) entrance ramp on the left.
On RT-9 East, drive 2.7 mile to Bernardi Volvo Cars Natick
Near I-495

Enter I-495 NORTH toward LOWELL to EXIT 22
Take exit 22 to merge onto I-90 East (Massachusetts Turnpike/Mass Pike) toward BOSTON
Drive 10.5 miles east on I-90 to EXIT 13
Take EXIT 13 from I-90 onto RT-30 East - toward NATICK / WELLESLEY.
On RT-30 East, drive .2 mile to the intersection with Speen Street (Naked Fish restaurant).
Turn right onto Speen Street
On Speen Street, drive .6 mile
Take the RT-9 East (Worcester Road) entrance ramp on the left.
---
Massachusetts Cities and Towns that should use the directions above to find Bernardi Volvo Cars Natick
---
Looking for a Dover Volvo or Needham Volvo Dealership?
If you're looking for a Volvo in Needham, Dover or the Norfolk County area, Bernardi Volvo Cars Natick is conveniently located on route 9 in Natick, MA. At Bernardi Volvo Cars Natick, our central focus is helping you to find the car or part that's right for you. Home to surpassing Volvo service and parts, as well as the area's best deals, Bernardi Volvo Cars Natick is the only place to shop if you're from Needham, Dover or the surrounding areas and are in the market for a new or used Volvo. Stop in today!
---
Not from Norfolk County and looking for a Volvo? Get directions to Bernardi Volvo Cars Natick from any of the following cities by clicking the links below: